So which ones are best?
Ok so i have tried quite a lot of different shampoos over the past year trying to find one that suits my hair type nourishing it without drying it out as its naturally frizzy. After being use to Loreal Elvive Smooth Intense for years i decided to try some new ones and give them a go. I saw adverts on tv and in magazines that promised to help dry/damaged hair. With mine being not quite Afro (hair stylists call it European hair) as its a mix of my fathers African American curls, native Indian and my moms naturally thick hair, it was eminent my hair was doomed to be thick, dry and frizzy from the get go. My hair needs natural oils, but not quite as much as real tight Afro curls, as i end up with a lot of greasy build up. I have always struggled to find hair products that help my hair without leaving it feeling heavy. For me the shampoo i love to use is one that doesn't add lots of build up, or dry it out leaving it feeling like straw. So here is the other shampoo's i have given a try this year: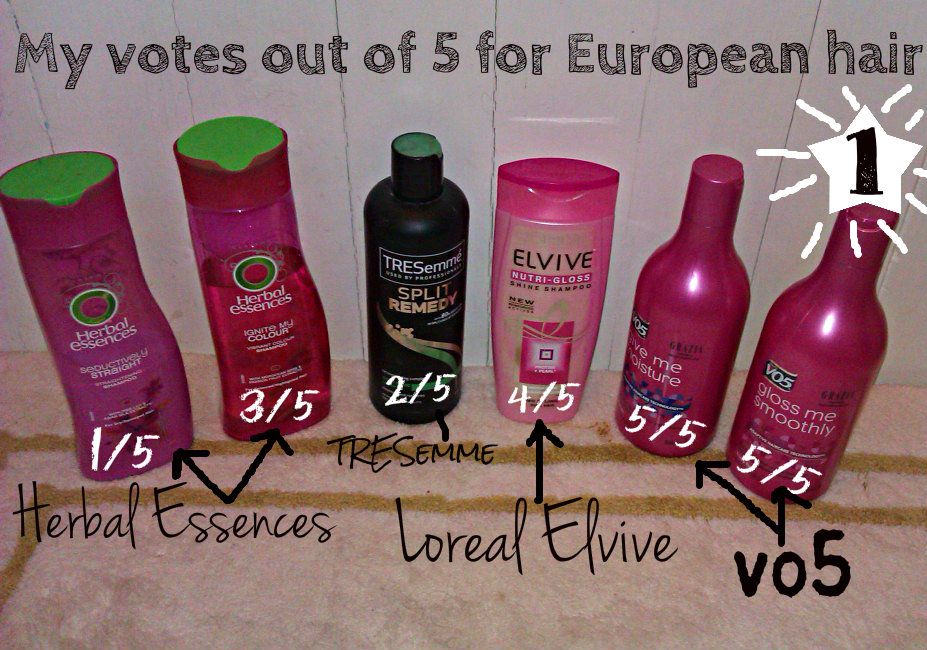 Herbal Essences Seductively Straight
Herbal Essences Ignite my Colour
TRESemme Split Remedy
Loreal Elvive Nutrigloss Shine Shampoo
VO5 Give me Moisture
VO5 Gloss Me Smoothly
Selsun Blue Anti dandruff (not pictured)
Reviews
~(Not pictured) I use Selsun Blue maybe twice a month to help remove build up, its brilliant at doing so but drys my hair out, hence why its not used much. Its medicated so if you have bad dandruff its perfect.
~Herbal Essences Seductively Straight didn't do much for my hair at all :-( hence the full bottle still. It left my hair more static and frizzy.
~Herbal Essences Ignite my colour, did help my hair after dying it red but dried it out a lot. It ended up being very dry and frizzy that i had to use a lot of serum to rescue it. However this shampoo is wonderful on my children's curly hair, it really ignites the blond and makes it shine.

~TRESemme Split Remedy shampoo, i found this didn't help my hair type :-( I'm gutted as its one of my favourite brands and had high hopes, sadly it dried my hair out too much, their originals shampoo's are better. However i feel this shampoo is better on more thinner, hair i believe mine is just to dry and brittle for it to work.

~I found the Loreal Elvive Nutrigloss Shine Shampoo nice, it smelt lovely and left my hair feeling softer and clean.
~
VO5 Give me Moisture
i was swayed towards this a few weeks back thanks to Shirley of
Meek~n~Mild
, first try i found it amazing, so the hype definitely lived up. It left my hair feeling clean and softer than usual.
~VO5 Gloss Me Smoothly is actually better than the give me moisture. My hair feels a lot sleeker, smoother and thinner. So not sure its ideal for people who want volume, but for someone with thick, frizzy hard to tame hair i would recommend. I also recommend the conditioners they are fantastic. My hair was a lot less frizzy so i used less styling product and hair spray. I truly never thought i would find a product to help with the frizz and i hope this perfect match lasts. Not to forget it smells amazing!!!
So its pretty obvious who won my number 1 vote for European/Afro mixed hair is VO5 for the Shampoo.
To check out their products, you can explore their site
here
What do you use that works for your hair?
Have you tried any of these and how do you find them on your hair type?